It was on 4th October 2014, as I switched on my TV, Mr Narendra Modi, our Prime Minister was speaking at an election rally in Mumbai. It was a typical election speech and thus I had only limited interest in the speech. However, I was suddenly lightened up when he started speaking on his Jan Dhan Yojana. Soon, it was a pleasure to listen to him as for the first time I have listened to any big leader who was publicly acknowledging the contribution of bankers by working on Sundays and Holidays (Even our UFBU leaders feel ashamed to acknowledge this) .
At the end of speech I was thinking that soon it will be highlighted in the social media specially the bankers forums, but even after 24 hours have passed, I have yet to read any post which has praised Modi for his acknowledging the good work done by bankers. Thus, it has not gone viral at all. I was wrong in my assumption. I am not sure whether it is only by a chance or by design.
I am giving the link wherein you can yourself listen to the excerpts of the Modi's speech (
Shri Narendra Modi addresses a rally at Mahalakshmi Race Course Road, Mumbai: 04.10.2014). Click below to listen to that crucial paragraph of Modi's speech :
.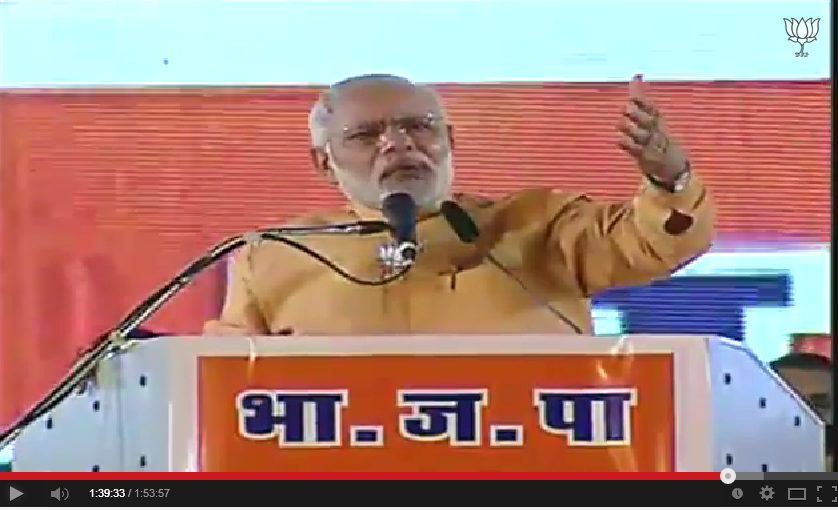 Has no UFBU leaders have heard his speech? Do they completely shun the speeches of Modi? I wonder what is the reason that, our bank unions which are dominated by communists, are so much obsessed with their political masters that they failed to take a clue from Modi's speech. Is he wants that bankers should approach him? Are these communist leaders are not interested to get a honourable settlement from Modi as they feel this can be termed as a surrender for them before BJP government. The silence of these leaders on the issue is really surprising. Had Modi spoken against bankers, this would have become a big issue.
I am of the view this is the right time and this part of the speech is highlighted in each and every banker's forum and communist union leaders are forced to thank Modi for his acknowledging the good work by bankers. I have never heard even a communist leader in last 30 years, so strongly acknowledging the good work of bankers. Mr Modi is new at the centre and does not have the old baggage to carry about the poor light in which previous FM and PM held the bankers.
In view of the changed scenario, there is a need for the UFBU leadership to forget their individual party affiliations for the sake of Aam Banker and each union must write a letter to PM and thanking him personally for these good words. In the same letter they can highlight their plight and request for a meeting with UFBU. In the changed circumstances, Mr Modi is supreme and if you are able to convince him about the problems of bankers and assure him that bankers will do their best to surpass the targets of the government in next few months, I feel he will hear them patiently and may agree to give a honourable Bipartite Settlement.
I know UFBU leaders will scorn at my advise, but you are not going to lose anything (except the inflated ego) even if he does not respond positively.
Rest I leave it to Aam Banker to give their views whether UFBU leaders should shed their inflated egos and go to Prime Minister and highlight the plight of bankers or let the bankers suffer with egos of UFBU leaders remaining intact. He can prove to be messiah even if you do not see eye to eye with him on political front. In the present situation, this can be one way of breaking the stalemate. For Aam Banker, it does not matter whether it is BJP or Congress or Communits - they merely want that their wages should increase at par with central government employees and they have regulated working hours.
Good Luck to Aam Banker. It is only you, who can force these UFBU leaders to talk to government with open mind and without baggage of their political affiliations. Share this article with as many bankers as you can. [If you belong to other political party and feel hesitant to share the same, please do NOT share as we do not want you to feel embarrassed. I have my own views but I am not a BJP activist. ].
You can give your feedback / comments about this Article. Please give only relevant comments as irrelevant comments are waste of time for yourself and our other readers.
blog comments powered by